[lmt-page-modified-info]
Best Bookshelf Speakers – Reviews & Buying guide for 2022
Best Overall: KIipsch R-41M
The Klipsch R-41M bookshelf speakers are designed with Klipsch exclusive Tractrix horn technology to enhance the listening experience.
This speaker set is also equipped with Linear Travel Suspension technology and Injection Molded Graphite (IMG) subwoofer cones that are extremely lightweight and act to reduce audio distortion.
The Klipsch R-41M bookshelf home speaker set is made with a reinforced MDF cabinet that is finished with scratch-resistant, wood grain vinyl that gives it a classic, high quality aesthetic.
This bookshelf speaker set has sound specifications of 68 hertz, nominal dependence of 8 ohms, 90-decibel sensitivity, a compatible crossover frequency of 1730 hertz, and 200 watts power handling.
The Klipsch R-41M bookshelf speaker set is definitely one of the best bookshelf speakers under $200 that is currently available on the market.
This speaker set by Klipsch is designed with high quality, state of the art audio technology, making them the perfect choice for providing big time sound to a compact living space.
These bookshelf speakers are designed with a Linear Travel Suspension aluminum tweeter that minimizes distortion, as well as Klipsch's proprietary Tractrix horn technology that provides clarity, dynamics and detail for all audio from movies, music etc..
The Injection Molded Graphite woofer cones are incredibly lightweight and rigid, which produces a fantastically low frequency response with minimal distortion.
The Klipsch R-41M bookshelf speakers offer maximum versatility without losing out on quality and performance. Truly an excellent choice for your sound system needs.
Pros
Sound is incredibly clear
Stellar bass response
Great for a surround sound setup
200 watt peak power output
Wall mountable
Cons
Mid range and low range frequencies are not ideal
Meant for small spaces, not suited for full sound in a large area
Amplifier or receiver needed
Passive (not powered)
Only 50 watts of continuous power output (200 peak)
Wood grain box is a veneer
Product specifications
Wattage: 200 watts
Frequency: 1730 hertz
Decibels: 90 dB
Runner Up: Edifier R1280T
The Edifier R1280T studio monitor speakers are designed with two auxiliary inputs, allowing for a super convenient connection to any device that has a 3.5-millimeter headphone output or dual RCA output.
This allows users to have two devices connected at the same time, with no switching or unplugging needed. Connect to a PC, laptop, tablet, smartphone, or record player.
This speaker setup is designed with a 13-millimeter silk dome tweeter and a 4-inch full-range unit and has remote control capabilities for adjusting volume, while the bass and treble adjusters are located on the side of the main speaker.
This fantastic bookshelf speaker set comes with a high-quality MDF classic wood finish, with wood effect vinyl that will look great in virtually any space. It also comes with a 2 year guaranteed reliability and parts and labor warranty within the United States and Canada.
The R1280T-powered bookshelf speakers are a great option for your home audio needs. Edifier has combined the slick retro look with high quality, state-of-the-art audio quality.
These 2.0 speakers feature a solid-sized 4-inch bass driver, as well as a calibrated, flared bass reflex port to produce awesome bass notes that are full of depth and provide real power.
Equipped with remote-controlled volume changing capabilities, and easily accessible bass and treble adjustment knobs, finding the perfect combination for your ideal audio is a breeze.
Designed and built with a superior quality MDF wood build, finished with a wood effect vinyl, makes this bookshelf speaker unit is a beautiful piece that can provide a great complementary aesthetic to any home decor.
Pros
2 auxiliary inputs
Studio sound quality
4-inch bass driver
Remote control volume adjustment capability
2-year warranty
Cons
Sound quality decreases when instruments and vocals overlap
Does not produce the volume of a true 42-watt speaker
Speaker wire jack has been reported to break easily
Lacks high frequencies over 8 kHz
Product specifications
Wattage: 42 watts
Frequency: 1280 hertz
Decibels: 85 dB
Alternative: Polk Monitor XT15
The Polk XT15 monitor speakers provide room-filling, high quality sound for everything from movies and video games to music, podcasts and so much more. wall-mountable, compact surround loudspeaker.
These monitor speakers feature an incredible dynamically balanced acoustic array with a 1 inch high-resolution terylene tweeter, as well as a 5.25 inch polypropylene woofer and precision crossovers.
The Polk XT154 bookshelf speaker set delivers crystal-clear, precise audio, regardless of the space's acoustics. These monitor speakers are hi-resolution audio certified and guarantee high-fidelity, accurate sound reproduction from even the latest surround sound AVRs and amplifiers.
This specific model is designed with premium quality, timbre-matched Polk components that effectively enable customers to mix and match different models in order to customize and build their very own dream home theater or studio.
Add the MXT60 tower pair, MXT30 center channel, MXT90 height module, and the MXT12 sub for a complete 5.1 surround setup.
The Polk XT15 compact bookshelf speakers allow audiophiles to enjoy the realistic, life-like sounds from movies, games, and music.
These speakers feature a 1-inch tweeter and a 5.25 inch dynamically balanced woofer for incredibly rich, clear audio, as well as an open mid-range bass with an extra punch in an immersive soundstage.
The Polk XT15s possess a 4- & 8- ohm compatibility that delivers high-quality surround sound from your favorite sources, including online streaming via services including Spotify, Apple Music, Tidal, and more.
The Polk XT can be used as a front, rear, or surround sound audio channel and can be placed anywhere in the room without compromising the quality of the audio.
Add the MXT60 tower pair, MXT30 center channel, MXT90 height module, and the MXT12 sub for a complete 5.1 surround setup.
These bookshelf speakers truly deliver maximum performance in a compact size and can be positioned virtually anywhere without space issues. Definitely one of the front runners for the best bookshelf speakers for under 200 dollars.
Pros
Compact but clean and loud sound
More than enough dB range
5.25-inch woofer provides high quality, punchy bass
Modern design blends well with virtually any home decor
Connect to online streaming via Apple Music, Spotify, etc..
Cons
Passive speakers, power needed
Description advertises 4 and 8-ohm compatibility, however, they are 4 ohms only
An overabundance of low-frequency response after multiple uses
Only suited for smaller, compact spaces to fill the room properly
Product specifications
Wattage: 150 watts
Frequency: 48-40k Hz
Decibels: 89 dB
Alternative: Moukey M20-1
The Moukey bookshelf speaker set is designed with a 1 inch treble unit and a 5 inch bass unit providing a range of audio capabilities.
These speakers feature a built-in crossover that will allow them to split up audio signals and send them to drivers that are designed for specific frequency ranges to improve the overall listening experience.
The Moukey M20-1 stereo speakers are compatible with most home theater receivers, stereos and home theater processors which provides a variety of potential home theater and studio arrangement options.
Use these bookshelf speakers as front, left-right setup, surrounds, as rear speakers, also with 2.0, 2.1, 3.1 systems or an immersive 5.1, 7.1 or 9.1 setup.
These bookshelf speakers are also wall-mountable, thanks to a design that includes an independent hook on the back wall of each individual speaker. The Moukey M20-1 features handcrafted wooden boxes with structures accurate to 1 cm to achieve the best possible sound quality.
The Moukey M20-1 bookshelf speakers are incredibly compact and versatile, allowing for a variety of arrangement options while maintaining a high-quality listening experience and a modern design.
These speakers feature a 1-inch silk dome tweeter and a 5-inch powerful low-frequency unit which allow them to provide higher treble, open midrange, and high-quality bass response.
Apart from the sleek design of the handcrafted wooden box, the intelligent crossover technology helps handle all audio signals and eliminate low noise, as well as interference from low-quality audio equipment.
The Moukey M20-1 bookshelf speakers are designed to produce a wider range of dispersed sound, regardless of where they are placed. They can be used as front or rear speakers in your home audio arrangement.
Their five-way binding posts feature produces a range of safe options for wiring. Place these bookshelf speakers in any room of the house and rely on them to deliver a great listening experience.
Pros
No distortion at high volumes
Wall hanging capabilities
Great for smaller indoor spaces/studios
Perfect entry-level speakers
Awesome quality for the price
Excel in the midrange frequencies
Cons
Lacking the banana speaker jacks advertised in the description
Music streamed from online services is not as dynamic as it could be
Meant for smaller sized spaces only
Quality of the wood and craftsmanship is sub-par
Product specifications
Wattage: 100 watts
Frequency: N/A
Decibels: N/A
Alternative: Moukey M20-3
The Moukey M20-3 passive bookshelf speaker set has been designed with three speakers (5", 2" and 1") for a high quality 3-way frequency that is responsible for deducing every important detail of the 20 – 20000 Hz frequency band.
This speaker set has been designed with a high-end, proprietary crossover developed by Moukey in order to optimize the quality of the music.
The Moukey M20-3 features a handmade wooden enclosure, crafted precisely so they are perfectly fitted to the internal parts.
This passive speaker set features independent hooks on the back panel of each speaker to allow them to be mounted on walls or other vertical surfaces with ease. This bookshelf speaker set has multi-scene application capabilities.
It can be used for a small studio, a bedroom, an office atmosphere, basement karaoke and so much more. One thing for customers to remember is that these are passive speakers and as a result cannot play music without some sort of amplifier or receiver as a power source.
The Moukey M20-3 bookshelf speaker set is designed to produce a wide range of high-quality, well-dispersed audio that sounds great in the right location.
This speaker set can actually be used as the front or rear speakers in a full-fledged studio or home theater setup. The five-way binding posts provide users with a variety of safe and convenient wiring options.
The Moukey M20-3 speaker set is compatible with most home theater receivers, stereos, or other audio processors.
The high frequencies are bright but not aggressive with quality detail, while the ever-important middle frequency shines through the way it should and the low frequencies are strong and powerful.
Moukey's classic monitor series has been redesigned for today's audiophiles. Equipped with 5 inch, 2 inch, and 1-inch speakers, this model produces a wide range of quality frequencies.
Pros
Well built with solid casing/box
3-way frequency (5", 3", 1")
Solid power at 110-watt max (55W per speaker)
Five-way binding post for convenient wiring options
Cons
Product description not fully accurate
Not compatible with all amps/receivers
Suited for smaller rooms, not large spaces
Product specifications
Wattage: 110 watts
Frequency: N/A
Decibels: N/A
Best Bookshelf Speakers FAQs
What Level Should Bookshelf Speakers Be?
Properly positioning your bookshelf speakers is crucial to creating the best possible acoustic sound experience for your space.
There is a general rule of thumb for these speaker models that says you should have bookshelf speakers at 10 o'clock and 2 o'clock positions, while having them angled towards your usual listening positions (couch, desk chair etc..).
The speaker's tweeters should be just about ear-level for the optimal listening experience.
Is It OK To Put Bookshelf Speakers On Their Side?
Depending on what you are planning to use your bookshelf speakers for, you may or may not want to put your bookshelf speakers on their side.
If you are using them for simple listening purposes (music, movies etc..) they can be placed on their side without worrying about significant issues.
However, if you are using them for audio production purposes (e.g in a studio), there are a number of factors that may severely affect the sound quality.
Things like vertical sound dispersion, airflow and stereo imaging are factors that would potentially be affected when having speakers on their side. Consider these things when deciding how to arrange your bookshelf speakers.
What Is A Good Frequency Response For Bookshelf Speakers?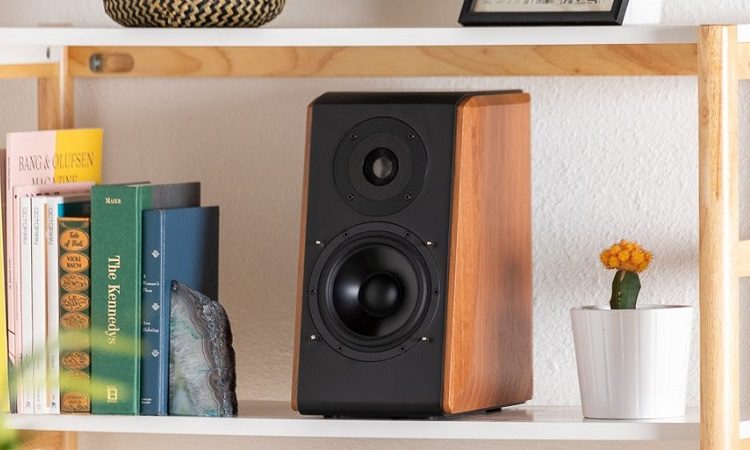 The ideal or preferred frequency response for bookshelf speakers is between 20 hertz and 20 000 hertz (20 kilohertz). This is the typical range of the human audio spectrum.
Do Bookshelf Speakers Need An Amplifier?
Active speakers have power amplification integrated into their design, while passive speakers do not.
This means that bookshelf speakers, which are typically passive speakers, will need an amplifier in order to produce audio.
Conclusion
In this buying guide we covered five of the best bookshelf speaker models, what they have to offer, and the pros and cons of each product.
After considering all of the options, we have come to the conclusion that the Klipsch R-41 M is our overall winner for the best bookshelf speaker under 200 dollars.
We also addressed some of the more frequently asked questions regarding bookshelf speakers, and provided insight into good frequency response, speaker orientation, and the need for an amplifier set up.
Consider this information and make an informed decision when buying a bookshelf speaker set of your own.
Resources: