[lmt-page-modified-info]
Best Overall
Runner up
Best for money
Material
Bronze, auspicious metal blend
Sounds are healing, and when you know how to manipulate them to fit your current mood and requirements, they can have a lasting impact.
Tibetan singing bowls are perfect examples of created and crafting custom sounds that really leave a lasting impact on your mental wellbeing.
We know the effects of subneural noises, and we know how important they can be for meditation and personal reflection.
These are the best Tibetan singing bowls: the ultimate instruments of calming yourself and slowing down your mind to look inward, while enjoying the musical process of actually getting these bowls to "sing," or produce the perfect vibration noises that wash over your senses with a blanket of calm.
Let's take a look at them.
Silent Mind Tibetan Singing Bowl Set
Silent Mind, hands down, just made the best Tibetan singing bowl available.
It hits home on a ton of different fronts, including cost and value for what you get in the package. Starting with the bowl itself, as you know, Tibetan singing bowls are always handcrafted.
These ones are made from Napalese artisans and their extremely particular craft, and endorsed by one of the originals sharks on Shark Tank, Kevin Harrington.
He put his name on this because it's truly the ultimate singing bowl. Following the standard rough measurement of a four-inch diameter, this allows excellent transference of vibrations from each individual strike.
Use the included mallet to make this sing like a canary through the multiple grooves and markings along the exterior. It creates a unique sound that we've yet to see from other singing bowls.
The mallet, or striker that you receive with your purchase is one-ended, and comes with a leather grip on the handle end. While you won't be gripping the handle super hard, it still helps with comfort and retaining a good grip without clenching your fingers too much.
It helps everything stay nice and calm. As for the cushion, it's not just a decorative resting place for your bowl when it's not in use—it works as a softener for the vibrations that come from your singing bowl.
Hand-sewn and elegantly crafted, this cushion takes hard vibrations out of the singing bowl as the audible noises reverberate from the metal. This removes any sharp panging while still allowing you to make your singing bowl loud.
Size: 4"
Material: Auspicious metals
Reehut Meditation Yoga Singing Bowl Set
You can't talk about the best singing bowls without talking about the Reehut meditation bowl.
This simple masterpiece is wildly beloved for how inexpensive it is, while still being hand hammered and staying true to the idea of a proper meditation bowl.
The external design is much simpler. You can see the markings from the hammer that look like a honeycomb pattern, giving it a gorgeous and rustic look. As for the grooves, there is a series of three lines just below the lip on the outside. There's nothing fancy about these.
That's a good thing, though, because it's all about the function. Meditation bowls should be helping you heal, not just being decorative shelf pieces when not in use (though this is a fetching piece as well). 
With this set, you get the 30-day money-back guarantee from Reehut, as well as a two-year warranty on the entire set with lifetime customer support. Reehut is known for being a leading company in non-traditional healing and spiritual alignment tools, and this bowl is a testament to that.
In this kit, you'll also get a striker made out of wood, and a soft, baby blue cushion to keep your bowl on. The cushion isn't the absolute best at muffling sound evenly, but it does do a good enough job at it so you can create a myriad of different tones and sounds. Reehut made this slightly larger at 4.2 inches, which helps give it a unique ringing sensation when in use.
Nepalese artisans hand hammered these for you to enjoy. Whether it's for meditation, deep thinking, or trying to spark that creative flair, this natural sounding Tibetan singing bowl will be your new favorite way to relax. Use it before or after yoga for additional clarity.
Size: 4.2"
Material: Auspicious metals
Silent Mind Bronze Mantra Singing Bowl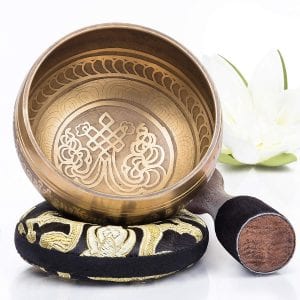 Silent Mind, by this point, is basically leading the charge in Tibetan singing bowls.
They really blew it out of the water with this full set made of bronze, the wooden striker, and the leather grip on it.
If you take a look at this entrancing design, you'll see symbolism strewn across it that's absolutely mesmerizing. Everything is still hand hammered, which just shows you how much dedication and craft had to go into this.
As for the striker, it's fantastic. Made out of wood with a leather handle, it feels like the perfect balance in your hand from the moment you pick it up, all throughout the journey. Lastly, the silk cushion is basically heaven. If you don't want to put the bowl in your hand, then you can rest it on this silk pillow to help muffle some of the sounds.
Pay attention to the intricacy along the interior rim on the bottom. Everything here gives you a unique reverberating sound that even other Silent Mind meditation bowls can't seem to replicate, so you're left with a one-of-a-kind experience after using it.
With the standard size of a 4" diameter, you'll have to work up a louder vibration by clanging against the edge of the bowl. Skimming the bowl on the outside it smooth and simple, so even if you're a newcomer to meditation bowls, you'll be able to pick it up and just get right to it. There's no warm-up period at all.
Size: 4"
Material: Bronze
Tobelifo Tibetan Singing Bowl Set
What's better than a seriously well-built singing bowl? A free gift attached to it. 
They include a Mandala necklace as an add-on, which goes wonderfully with the design on your cushion. The cushion works as intended to muffle vibration noises, but it's also a wonderful addition to your aesthetic space.
Using the wooden hand carved striker, you'll be able to achieve a wonderful calming sensation thanks to the hand hammered design and custom metalworking. Everything flows wonderfully as you skirt the rim of the bowl, giving a calming and low-bearing sound outward from the center.
Tobelifo uses bronze for the bowl, and keeps it nice and simple to keep the costs lost: it's cheap, it's fitted with three exterior grooves, so you can feel the reverberations while you pang against the side of the bowl. It's slightly compact, allowing it to slip right into your backpack or luggage when travelling for a calm, relaxing retreat when you need it most.
Size: 3.5"
Material: Bronze
Innovahome Palm Sized Meditation Bowl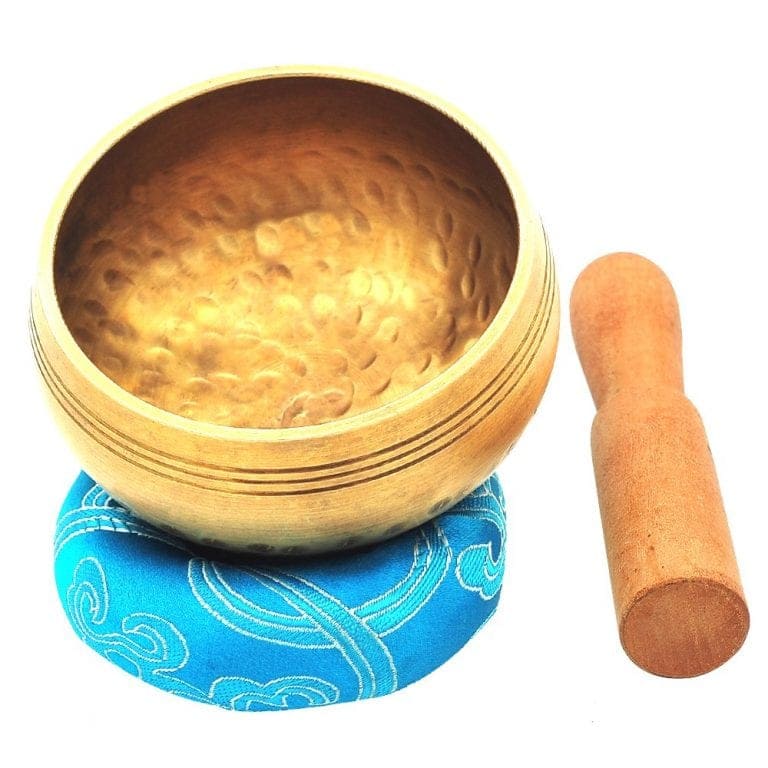 Last but not least on our little journey, we come to Innovahome and the way they've innovated the Tibetan singing bowl.
While it's still a hand hammered Tibetan style that's crafted by artisans, it comes with some modern advantages over other singing bowls. For one, it's a smaller size at just 3.2" in diameter, which makes it ideal for lightweight travelling and bringing it with you to keep calm on business trips or stressful visits to the in-laws.
This full set includes the cushion and striker. It's the most inexpensive singing bowl you'll be able to buy, and as a word of caution, they put almost the entire quality budget on the bowl over the striker or cushion. The striker is fairly basic, and the cushion doesn't have much give to it, so it only muffles higher vibrations so much.
Speaking of higher vibrations, this bowl is 20% smaller, requiring 20% less force to get the same sounds as a larger 4-4.2" bowl. It's not like you need a lot of force to make a bowl sing, but you need to have a calm demeanor, and not having to apply extra force when striking the side of the bowl helps you stay focused and relaxed. 
Bring this compact bowl with you on a retreat, on a business trip, or just out with you when you need a chill-out moment during a stressful day.
Size: 3.2"
Material: Bronze, auspicious metal blend
What Are Tibetan Singing Bowls Made of?
Handmade Tibetan singing bowls are usually made out of auspicious metals, as you'll commonly see on sales listing pages.
According to the Cambridge English Dictionary, auspicious means "suggesting a positive and successful future." Well, that's what these metals represent.
Auspicious metals are thought to bring good fortune, and in some instances, good luck (if you're into that sort of thing). They're also very vibration conductive, meaning when you bring the striker to the bowl, it will reverberate and sing with ease.
These metals are fairly simple to mold as well, adding to the authenticity that these are, in fact, hand hammered bowls at these affordable prices.
How to Use a Tibetan Singing Bowl?
They're commonly used as meditation bowls, and for that, there are some techniques that you need to understand. Let's start with going around the rim.
Around the Rim
This method is ridiculously simple, and is the first thing you should try when you get your new singing bowl.
Hold the striker so it's aiming straight down, but hold a gently firm grasp on the handle. While keeping it straight, let it gently scrape off the edge of the bowl as you go around the entire circumference in a clockwise motion.
From there, the sound will build the more you do it, and will begin a low humming sing. Move faster, and that sound will get louder and change intensity.
Tapping
Simply put, you use the striker and hold it so that it's aiming straight down.
From there, imagine that it's a bell that's swinging after being rung. You loosen your grip ever so slightly and allow it to bang against the side of the bowl,
Repeated taps with the same intensity and motion will sort of build the sound inside the bowl. You will hear a low-bearing pang sound reverberate after each hit, gradually increasing to release a louder ringing sensation.
You're biding the kinetic energy and adding to it every time you tap the side of the bowl, which sends more vibrations through it. Eventually, you can stop tapping the side of the bowl and allow it to finish its ring on its own. 
The results are entrancing.
How Does a Tibetan Singing Bowl Work?
Tibetan singing bowls use vibrations, and that's as simple as it can possibly get.
There's no trickery or implated devices, they're just simply able to transmit vibrations in a pleasant sound. Everything in the universe is constantly vibrating, but they all go through what are called CPS, or cycles per second.
Your Tibetan singing bowl set uses intense vibrations that reverberate in a sort of acoustic echo chamber, being the base of the bowl. They're built in such a way that the vibrations are free to move around, and the metal edges of the grooves on the inside of your bowl vibrate against one another, creating that melodic sound.
That's why the more you tap the side of the bowl, the louder it gets. The vibration in the metal increase and reverberate off of each other.
For some reason, manufactured or factory-made Tibetan singing bowls just don't have the same effect. You can't really get the same level of sound out of it, and it comes out too quickly. If you use a real hand hammered Tibetan singing bowl, you'll hear that the sounds linger for a while even after the strike has passed. Manufactured bowls fizzle out quickly.
The hand hammered technique gives a ton of different vibration access points where the bowl's vibrations can work through the metal.
How do You Clean a Tibetan Singing Bowl?
Your singing bowl set should come with a total of three items: the bowl, the striker, and the cushion. Let's talk about how to properly clean all three of them.
First off, the bowl. Depending on what your bowl is made out of (most likely auspicious metals), you'll have to use different cleaning metals. Most Tibetan singing bowl materials are softer metals, like zinc and copper, so you'll want to avoid anything harsh that could warp them. Use warm water, and nothing else. Dry immediately and ensure that there are no droplets left in the interior grooves.
Second, your striker. Strikers can come made out of wood or metal, and some have leather handles or a felt/velvet casing. The collection of different materials makes it extremely difficult to judge how you should clean it. You don't want wood to rot or metal to rust, so you should use white distilled vinegar. It kills bacteria, but it also dries fairly quickly from air contact.
Last is the pillow. These should never be cleaned unless you absolutely have to. You'll find that many of them are made out of silk, which is difficult to clean. If possible, visit a local dry cleaner, or learn how to dry clean on your own. It's easy to tarnish these, and we want to avoid that at all costs.
Healing Through Unique Sounds, One Session at a Time
It's time to begin an entirely different healing and mental clarity process. If you don't already own a Tibetan singing bowl, it's time to get started.
Use it in synchrony with recommended nature music in the background, and perform with them in a slightly echoey space to get the best possible sounds that encapsulate your senses, and take your meditation to an entirely different level.
Even if you just want to mess around with one of these bowls and see how they work, you're going to find yourself instantly drawn to repeating and improving the noises you just made.
Did you like the article? Please rate it:
[kkstarratings force]
You Might also like