Meditation isn't an easy thing, and most people don't seem to get that. We understand that you need to set the right atmosphere, otherwise you can't take yourself out of your normal life and transcend to a peaceful place.
CDs just aren't as accessible these days, so you collection of early 2000's meditation music just isn't going to cut it. These on-the-go streaming services that we use have some of the best relaxing music to help you get lost in the moment.
Amazon
Amazon has the largest library of music available anywhere on the internet, and they've made it a point to appropriately accommodate every music genre imaginable. If you're already a Prime member, then you have access to this excellent service right out of the gate.
I've not only found relaxing meditation music, but this service is applicable to everywhere in my life: music for family parties, commuting and road trips, exercise—it's good for everything. If you're like me and music is a big part of your life, Amazon Prime music might be everything that you need.
iTunes
iTunes is second to Amazon in numbers, but it still possesses more meditation music than anyone could listen to in two lifetimes. If you're already an iPhone user, integrating into iTunes is a simple process. If you're not, you can still get iTunes music on your Android device and streamed to your Amazon Echo or radio.
I'm also a fan of podcasts when I have the time, and iTunes is known for having meditation-centric podcast episodes everywhere. The Meditation Podcast and Dharma Seed are some of my favorites, as well as Tricycle Talks and Against the Stream. iTunes have every aspect of meditation-friendly listening covered.
Spotify
Spotify came in like a phenomenon, and we're better for it. Listening to playlists on here take all the guesswork out of it. I'm one of a quarter million monthly listeners on the Meditation Music Zone channel, but they also have full albums available through their Premium version that give you a perfect blend of meditation music and yoga albums as well.
Spotify is available on almost every single device, and comes with a simple interface that allows you to just tap, and let the music begin. Configure your own playlists of calming music (from the library of 10,000+ meditation tracks) and melt into the music.
Tidal
Tidal was a little gem of a service that I found. Their big platform is on exclusive interviews with artists and podcasts, as well as videos, but Tidal has a hidden secret: it also has a fair amount of meditation music available as well.
I went ahead for their free thirty-day trial, and was not disappointed. While the library may not be the same volume as iTunes, it's as easy to integrate into your life, and displays different choices than other music services that I love. It's a great way to diversify the music in my meditation archive.

Deezer
Remember when you used to make playlists on your computer from your own library, or actually burn a CD and listen to meditation music that way? Well, Deezer doesn't require you to do that, but they do give you that nostalgic feeling of making your own playlists by selecting music from their archive of millions of songs.
Their meditation library is still growing, but the service itself is inexpensive and simple to use. They don't try to push a million ads like some other platforms do, making it a less stressful time when you just want to put on some meditation music in the background.

Google Play Music
Google Play Music feels like a mish-mash of a ton of other services, most notably being iTunes and Amazon Prime. It's not the most unique platform, but it does have a fair collection of meditation music.
You have to pay individually per track, but then you own it for life, so a loss of subscription isn't going to intrude on your meditation music listening.
I prefer to own my music tracks when I can. You can listen whenever you want, even if you're not in Wi-Fi range, and the quality never drops due to bandwidth issues. It's a great alternative for those who don't have the best internet connection.

SiriusXM Online Radio
SiriusXM was huge when it started getting integrated into cars, but you don't hear about them a lot anymore. They've taken their presence almost exclusively online, and offer some truly insane packages for you to get started. I selected their $5/month for one-year plan. That's a growing archive of meditation (and other) music at a pretty big discount.
They're definitely a premium service, but from that, you get premium features that make it a breeze and a pleasure to use. In my opinion, if you're going to take advantage of your one-time subscription discount, the twelve month program is the absolute best for inside and outside of your car.

Pandora
Pandora first introduced us to the idea of different AI-driven channels that brought us new music within our niche. It's important to take yourself out of your usual music; you're statistically likely to find something that you like even more.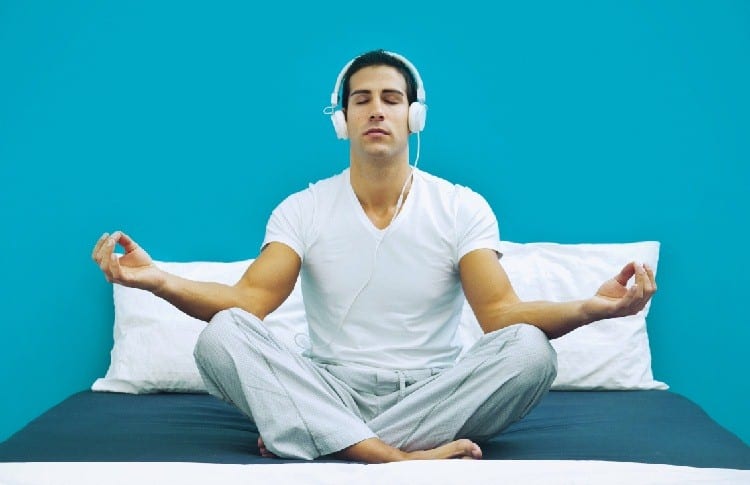 With meditation music, you can become numb to the same tracks if played over and over again. Pandora's premium version comes ad-free, allows you to skip those ones that you may have repeated, and brings you tons of new music to help you meditate easier. You're likely to find a brand new line of meditation music very quickly.

Relaxing, Calming Music is Just a Click Away
There are tons of services out there, but among them, these are the eight best that give you unlimited, high quality music that calms the senses.
If you like to switch gears and listen to some harder stuff on your way to work in the morning, these services have it all—pick your poison, tap the play button, and it's your world.