Human life is filled with a series of ups and downs, and we cannot avoid these circumstances beforehand, but we indeed can tackle it with good relaxing music.
Our brain is complex, and it sure has its way of working through stress- listening to music in one such way. These tunes can mentally alter your state and make you feel rejuvenated from within.
[lmt-page-modified-info]
Best Overall
Sound
Acoustic Guitar and koto ambiance sounds
Assorted natural guitar and koto sounds
According to a study published on NAMI.org, music therapy works well in alleviating stress and bursting anxiety, even in patients with chronic diseases like cancer.
This change in the mood is due to the release of a vital dopamine chemical. When you listen to relaxing music, dopamine releases your body's happy chemical; this chemical improves your mood and relieves stress.
The math is very clear; listening to music shoots the dopamine, and your stress gets reduced while you start engulfing yourself in a relaxed trance. To gain the benefits, you do not need to be a maestro or have a deep understanding of the music; you can reap the positive effects of this music by simply listening.
Relaxing music can be used for various purposes like aid for sleeping, relaxing, or overcoming mental health issues.
Best Relaxing Music – Reviews for 2021
Best Overall: Sprightly Moods for Nature Retreats
Our winner for the best relaxing music for sleep is Sprightly Moods for Nature Retreats. Let us understand a few specs and information about this music therapy album.
This relaxing sleep music set is from the album Koto and Acoustic Guitar – Ambiance for Peaceful Streams. The album has ten songs, with each piece of an average length of 2 minutes.
The songs in the album are listed below for your understanding:
Simple Music for Outdoor Meditation
Quiet Backdrops for Fresh Air
Background for Fresh Air
Acoustic Guitar Soundtrack for Peaceful Streams
Inspiring Nature Retreats
Thrilling Outdoor Meditation
Sprightly Moods for Nature Retreat
Luxurious Koto Solo – Vibe for Nature Retreats
Calm Ambience for Rivers and Streams
Charming Ambiance for Peaceful Streams
Benefits
The layered guitar sounds add a rich element to the entire backdrop of the song. You get to experience classical guitar and koto in their purest and original form. This layering will surely heighten your sensitivity and drop down your stressors.
This album is an impeccable purchase because of its koto solo song. Fans of this Japanese 13 stringed instrument are indeed in for a treat as the excellent smooth and supple sound will reverberate and melt their brain within an instant.
Drawbacks
People can have a hard time connecting to the sound as these sounds are not naturally produced.
Meditating with an instrumental song can be challenging for few people as their body readily accepts music produced by nature without any added layers. Still, for such tracks, it might take some time.
Extra features
The album doesn't have a repetitive tone, and it doesn't lack quality music pieces in all ten songs. The repetitive tone is a pretty common phenomenon in the relaxing music genre. Each music piece is woven with the correct elements to reduce stress.
Buying advice
If you aren't a fan of instrumental music for relaxing, we guarantee that this album will change your perception related to musical instruments. We request that you give some time to the album; you will soon enjoy the continuous guitar and koto acoustic sounds within few plays.
Product specifications
Manufacturer: Sound Waves
Sound type: Acoustic Guitar and koto ambiance sounds
Duration: 21 minutes
Number of songs: 10
Runner Up: Relaxing Rain (Water Sound)
Relaxing Rain (Water Sound) bags our runner-up position for the best relaxing music for sleep and relaxation. An album's features and quality gets unfolded after listening, but we will try our best to give a comprehensive review to help you decide whether or not to buy this album.
This relaxing rain soundtrack has a hearty single track of continuous rain patter. The track is nearly 1 hour long, showcasing the immensely high-quality rain sound for relaxation.
The popularity of rain sound and its association with calmness makes this one of the most efficient aids to help you fall asleep. People with anxiety and stress can play the music and curl up with a blanket or carry breathing exercises to settle their mood.
Benefits
The album has a deep heavier rain sound that few people thoroughly enjoy as it gives them a sense of relaxation and paints an accurate cozy rainy day picture in front of their eyes. This heavy rain sound is perfect for listeners who do not enjoy light showers. The heavy sound will work two times more effectively than regular relaxing rain sounds; you can meditate and relax a lot faster.
The album will work perfectly as white noise for sleeping during troubled times, or you can add it as a general aid for every day.
This album is excellent for people with intrusive thoughts. The rain sound works magically to help their brain stay quiet. People who wish to sleep and avoid thoughts can support their brains with this fantastic music therapy.
The rain sounds will create a superior surround sound for avid readers. As the sound isn't overpowering or underpowering, it provides a perfect middle-ground for long reading sessions.
Drawbacks
People who detest heavy rain sounds will have a tough time as they clearly won't enjoy the track. The track lacks a dedicated timestamp for light rains to cater to an audience who like a light, refreshing spring shower.
The track is interspersed with random sounds like an owl, cricket, and other birds. Some people aren't big fans of the lapping animal and bird sounds. But as a part of nature, it is pretty common to have such noises during rainfall.
A sudden thunder can startle you from your meditative stance or sleep.
Extra features
The album has a long single track; this is an excellent feature for people who like smooth transitioning between two sounds. Often, two different sounds can make you lose your meditative stance, but the single long tracks don't give a fragmented musical experience.
The overlapping natural sounds of an owl trick your brain into thinking that it is nighttime, helping you fall asleep a lot quicker.
Buying advice
We highly recommend buying this video if you love rain and wish to enjoy the cozy, calming, and relaxing benefits of precipitation throughout the year.
On that note, people who have negative and traumatic experiences of the rain should avoid this album as it might trigger your PTSD. Most people with PTSD associate rain with the feeling of helplessness and anxiety.
Product specifications
Manufacturer: Nature Sound Retreat
Sound type: Water sound
Duration: 1 hour
Number of songs: 1
Alternative: Mind Retreat – Nature Sounds
Mind Retreat- Nature Sounds is our first alternative on the list of best relaxing music ever. Let us know more about the album and its song structures in the following review.
This Mind Retreat set is from the album Delicacy | Focus The Inner Strength, Yoga. The album has a whopping 34 soundtracks, each with a length of 2-3 minutes.
The soundtracks have an assorted mixture of natural sounds plus instruments to make you feel relaxed and focused. The first 15 tracks of the album include:
Water From Pond
Voice Of Nature
Swimming With The Dolphins
Touch My Soul
Up In The Clouds
Soundscapes
Unwinding
Study Music
Rebirth
Skylines
Spiritual Harmony
Play Along
New Experience
Mind retreat
Lucky charms
Mellow Sea Melody
Benefits
This single album has various soundtracks of different wavelengths. One single album will provide you various eclectic nature sounds.
The tracklist has numerous songs that you can easily save and add to your favorite playlist. These downloadable tracks can help you stay calm even outdoors.
This album has a wide variety of music sections perfect for yoga and meditation. The unique sounds will surely add a new energy level to your practices.
As most music albums focus on a specific type, it becomes difficult to use it for commercial use, but this album has an abundance of new fast and slow-paced tunes perfect for spas and retreat resorts.
The names are apt for the sounds, and you do not have to spend time finding perfect audio for your work. If you wish to complete work or study, the track named study music provides an excellent music match for your need.
Drawbacks
The album lacks in maintaining a similar tempo and music pattern. Few of the tracks are downright scary and loud for meditating and relaxing.
Kids usually get scared with few sounds as they are loud. Few tracks make them feel uncomfortable functioning with the audio playing in the background.
Extra features
Most music tracks are 1-2 minutes long, but this album has few tracks that exceed 3 minutes, which is excellent for people who like to indulge in a little longer music pieces.
Buying advice
If you are a yoga practitioner or spa owner, then having this album is necessary. The high and low pitch sounding tracks form a grand symphony to help while practicing yoga or relaxing.
If you are an individual who loves different track sounds, then consider buying this album. You can even make your separate playlist featuring songs of the same wavelength in one playlist and use these for multiple purposes.
Product specifications
Manufacturer: Gluten-Free Records
Sound type: Assorted nature sounds
Duration: 1 hour 30 minutes
Number of songs: 34
Alternative: Acoustic Guitar Soundtrack for Nature Retreats
Our second alternative is the Acoustic Guitar Soundtrack for Nature Retreats. Let us learn more about this album to help you understand the benefits and drawbacks of this album.
This music piece is from the album Fun Music for Rivers and Streams – Guitars and Koto. The album has ten neatly set tracks, all under 3 minutes. The entire album revolves around natural sounds laced with melodic guitar and koto sounds that relax and refresh your brain instantly.
The album playlist is as follows:
Fun Music For Fresh Air
Casual Backdrops For Rivers And Streams
Background For Outdoor Meditation
Acoustic Guitar Soundtrack For Nature Retreat
Spacious Relaxing In Nature
Warm Outdoor Meditation
Charmin Moods For Nature Retreats
Remarkable Koto Solo- Vibe For Fresh Air
Paradise Like Ambience For Outdoor Meditation
Unique Ambience For Relaxing In Nature
Benefits
This album is one of the best relaxing music pieces you can ever stumble across. The music will melt away your stress and relax your mind within few minutes.
Unlike the rest of the music meditation albums, this album has a flair. You can see the fun element in all the tracks. When you listen to relaxation or meditation music, few tracks start sounding melancholic, which isn't ideal for relaxing or de-stressing yourself. But this album perfectly fits the bill; each song has a lively feel.
Drawbacks
People looking for exclusive nature sounds will be highly disappointed as this album has a mixed and equal quantity of instruments and different elements but not pure nature sounds.
Few anxious people will feel that they have entered a void in a few track compositions. If you think that way, consider skipping those tracks altogether to get the most out of this album.
Extra features
The album pays attention to all the guitar and koto lovers as there are two single soundtracks if you wish to listen to pure instruments in their entirety.
Buying advice
This album has a decent variety of music notes that you can use for relaxation and meditation. The underline country aspect makes this a perfect purchase for country music lovers. We highly recommend this album if you are a devoted country music fan.
Product specifications
Manufacturer: Casette Distributors International
Sound type: Assorted natural guitar and koto sounds
Duration: 21 minutes
Number of songs: 10
Alternative: Nature Retreat
Our last alternative is the Nature Retreat- Nature sound series. Let us look at this album's benefits and features to know more about it.
This piece comes under the album Relaxing Tranquil Forest Playlist. This relaxing sleep music has 25 tracks making it an absolute relaxing album of 1 hour 16 minutes. This album will surely transport you into the tranquil lap of mother nature.
The first 15 tracks of this album are as follows:
Countryside River
Grounding Land
Pure Cheeps
Blissful Dawn
Autumnal Eclipse
Refreshing weather
Encapsulating bird song
Afternoon Dew
Summer Eclipse
Quiet Habitat
Atmosphere Below
Evening Fjord
Nature Retreat
Distant Eternity
Roost In The Clouds
Benefits
This album is dedicated to nature and its surround sounds. Listening to nature can highly relax your senses and make you feel at ease.
Sounds of forest and nature work well for people who struggle with depression and ADHD. The serene mix of sounds feels like sitting on a pad of luscious green grass by a pond.
This album doesn't stick to a single tone or instrument to produce the results; on the contrary, it continuously switches from grass, rustling leaves, chirping birds, occasional water sounds to give a layered surround sound experience.
The tone is clear and crisp, while each sound element goes well with the other. Even if the sounds overlap, you get a beautiful amalgamation of relaxing sounds.
You can use this album for yoga practice, mental retreat, sleeping, or relaxation while working, cooking, or driving.
Drawbacks
Continuous use makes it a highly habit-forming activity. Once you start using this as your sleeping aid, you might find it difficult to sleep without the presence of this album.
Extra features
Each soundtrack has a correct title that exactly reciprocated with the actual sound of each track. Their riverbank meadow has a calm and serene water sound that truly encapsulates your stressors and relaxes you while giving an authentic experience.
Buying advice
People who find peace in the sweet pandemonium of nature sounds should invest in this album without thinking twice.
Product specifications
Manufacturer: Sister Earth
Sound type: Forest sounds
Duration: 1 hour 16 minutes
Number of songs: 25
Relaxing Music Frequently Asked Questions (FAQs)
What type of music relaxes you the most?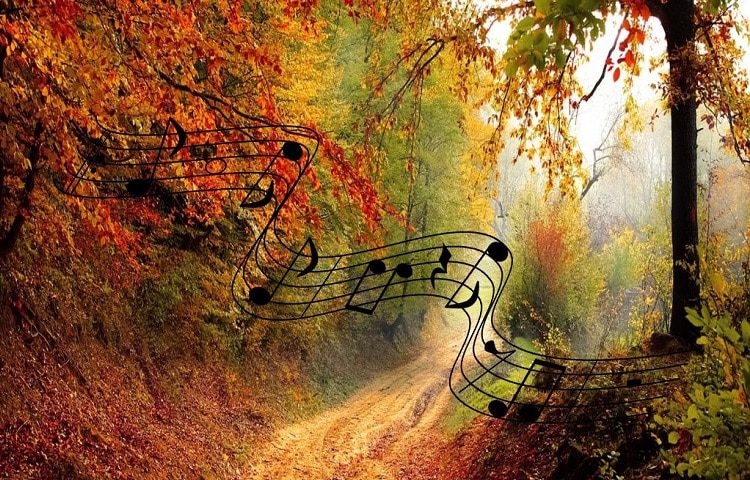 Each music has a specific pattern, raga, theme, clef that dictates its overall sound and tone quality. It is truly an interesting phenomenon that we humans can be calm and relaxed with the help of music.
That being said, not every type of music relaxes you. You cannot rely on heavy metal to calm you down; it will surely bring out your inner rage but won't calm you down.
The following types of music patterns or singles are scientifically proven to relax a person.
Nature music:
Delving down into the sounds of nature like a slow creek, babbling brook or rustling or leaves have shown to enhance concentration and cognitive functions. These smooth and sweet sounds help relax anyone struggling with relaxation.
According to research at Rensselaer Polytechnic Institute, this music also boosts mood and provides a good background for focusing while working. Few natural sounds that can help you relax:
Light thunderstorms
Water fountain
Birds chirping
Ocean waves
Classical music:
Classical music is renowned for its relaxing nature. The absence of lyrics makes you concentrate even better than traditional music with lyrics.
The various pitches and different instrumental sounds add up to the charm of calm. Few classical sounds that can help you relax:
Vivaldi's quick-tempo "Four Seasons."
Bach Classical Study Playlist
Other:
Apart from these main two genres, you can find relaxation in video game music, unintentional ASMR movie dialogues and scenes, and music that are between 50-80 beats per minute.
What music calms anxiety?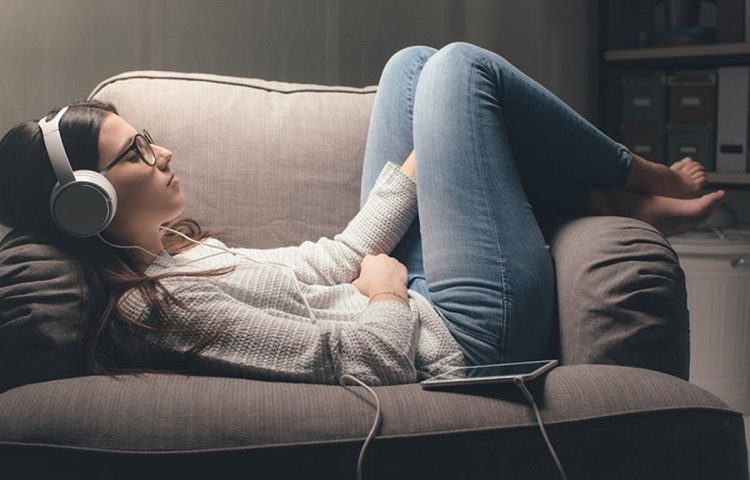 With the daily stress of modern life, you are bound to feel anxious and jittery most of the time. And one of the best ways to take off this pressure and anxiety is to divert your mind and listen to music that makes you feel a little less anxious.
Mindlab International's specialist Dr. David Lewis-Hodgson conducted a study and found a song name "Weightless" that caused a 65% reduction in their patients' anxiety. Apart from this track, ten tracks have proven to be the most effective to reduce anxiety and stress.
Marconi Union – Weightless
DJ Shah – Mellomaniac (Chill Out Mix)
Airstream – Electra
Coldplay – Strawberry Swing
All Saints – Pure Shores
Cafe Del Mar – We Can Fly
Enya – Watermark
Mozart – Canzonetta Sull'aria
Barcelona – Please Don't Go
Adele – Someone Like You
These songs might be a mixed bag of different genres and music styles, but they are incredibly effective. You can listen to and save this Spotify list with all the songs mentioned above.
What kind of music helps with stress?
Your stress levels can fluctuate depending on the amount and type of stressors your body and mind are related to. You can release this stress by listening to music.
Different people usually follow different music, but upbeat music will bring down your stress level to a greater extent; you will also feel positive and optimistic. A quieter and slower tempo can easily and quickly relax your muscles and minds while soothing your senses. Most common and effective sounds to reduce stress include:
Native American, Celtic and Indian stringed-instruments, drums, and flutes
Light jazz and classical music
Rain, wind, and other nature sounds
What music is good for depression?
According to a research study published by the Cambridge University Press, the participants who have received music therapy with regular treatment showed more outstanding results than patients with just standard treatment.
Meditation and classical music works best and offer excellent mood-boosting benefits. This mood-boosting works with the release of dopamine and endorphins—both working to make your mind feel good and induce happiness while relieving pain.
We cannot claim that music therapy will cure depression, but it surely helps manage the depression. With added regular treatment, your chance to overcome depression increases.
Conclusion
We hope our article helped in finding the proper music album for relaxation.
We want to mention that these music albums and genres may work for one and won't work for another. Since we are complex beings, no one can predict the right tune or genre that might work for you.
You need to do a little trial and error procedure to understand your stressors and what works for your body.
Did you like the article? Please rate it:
[kkstarratings force]
You Might also like